---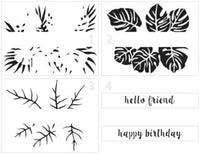 A2 Layered Monstera Banner Stencil

The Crafter's Workshop Layering A2 Card Stencil Designs come on an easy to store single 8 1/2" x11" sheet and are laser etched for precise,easy design registration and alignment of the 4 layer options with no confusion!
Stencils are made of premium quality 10 ml PET plastic. Stencils are transparent for easy registration, durable yet flexible and allowing for beautiful dimension. TCW uses the most advanced laser cutting technology to ensure crisp details and to support our intricacy of design. Apply your favorite medium with a palette knife, blender brush, paintbrush, spatula, or sprayer. Stencils work on paper for cardmaking and scrapbook layouts, on a journal, mat boards for mixed media, canvas, fabrics, walls, furniture for decor. After using clean with warm water and gently scrub with soap. Manufactured in the USA
Pair with ColorSparx, Stencil Butter, Inks or Stardust Butter.