---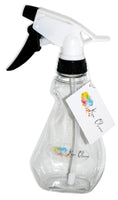 12 oz. Trigger handle Spray Bottle. Fine mist or stream spray with adjustable nozzle. I've selected a special mist bottle to use with Color Burst!  Our bottle has an adjustable nozzle that makes it possible to create a very fine mist.  When using stencils, the key objective is to deliver enough water to activate Color Burst, but not too much water as to create a puddle.
Our adjustable mist bottle is perfect for using with Color Burst!
Also perfect for cleaners, sanitizers and disinfectant sprays. Order a few extra for around the house or business use.