---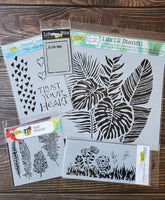 Sale
Here's a special bundle that you will love!  Spring is here, and I'd love to give something back to you to jump start your spring crafting!
This a "mystery" bundle of stencils is value priced, so order one for yourself and one for a friend! 
This "grab bag" is guaranteed to include at least 5 stencils (maybe more)
The March Madness Mystery Bundle will include:
1 12x12 Stencil
1 6x6 Stencil
1 4x9 Stencil
1 6x9 Stencil
1 3x4 Stencil

This is such a fun surprise bundle!  Order now, as this special won't last for ever! 
While supplies last!