---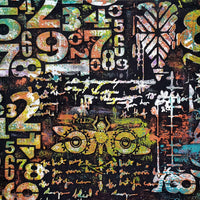 Sale
 Live Class Date and Time TBD
With the purchase of this class you will have access to a private Facebook group.  The class will be offered LIVE within the group page. 
Join me for a creative evening of mixed media art!  We'll use black gesso, modeling pastes, stencil butters and stencils to create a 12"x12" piece of art that you'll be happy to hang in your home, or give as a gift.  You'll learn how to layer, create collage looks with stencils, and apply faux patina finishes to your work.  Truly an innovative class that you'll enjoy, and you'll expand your creative mojo by leaps and bounds.  The perfect class for anyone who wants to push their creative boundaries. 
All skill levels welcomed.  You'll receive expert, one-on-one instruction during the class. 
Suggested Supply List: Black Gesso, 12x12 Stencils, 6x6 Stencils, Palette knives, Fluffy When Dry Medium, Stencil Butters (Various Colors) 12x12 Mixed Media Board.
Optional tools, Heat tool, small brayer, sponge.
And, please bring a roll of paper towels to the class. 
This online class will be LIVE in a private Facebook Group.